A video tribute to the legendary Paul Newman
Method actor, director, Oscar-winner (earning nine other nominations including one for producer), humanitarian, race car driver, liberal political activist, and co-founder of his own charity-inspired food company, Mr. Paul Newman has died. Following months of rumors about the condition of his health, we've since discovered that the admirably private 83-year-old legend that fought a quiet battle with cancer was at his home in Westport, Connecticut when he passed away yesterday "surrounded by his family and close friends."
Perhaps most universally recognizable for those undeniably sexy, cool blue eyes, the devoted humanitarian who held a special place in his heart for seriously ill children co-founded Newman's Own brand of food related products alongside his friend A.E. Hotchner,with all profits going directly to charitable causes, including $200 million dollars to Newman's eleven Hole in the Wall Gang camps around the world, "with additional programs in Africa and Vietnam." With 135,000 attendees visiting the camps free of charge in order to give children suffering from devastating medical conditions a place "where kids could escape the fear, pain and isolation of their conditions, kick back and
raise a little hell," as Newman's own vice chairman Robert Forrester, it made the fact that, as Newman joked, "the salad dressing [outgrosses] my films," all the more vital and indicative of his selfless devotion to others.
And although as a budding young film buff, I'd always been drawn to Newman's work—first as a hormonal straight female teenager tuned into the enormous sex appeal offered by his earliest work—in my earliest writing pursuits, I actually became a recipient of Newman's generosity myself. For, when I received a national Silver Award for a dramatic screenplay I'd written at the age of fifteen as part of the Scholastic Art and Writing Awards, I learned that the organization had benefited from Newman. In the introductory speech at the Library of Congress, I learned that he, who years earlier had seen some of our work displayed, became so impressed that he reportedly offered assistance right on the spot to the organization that in the past had given awards to such famous scribes as Sylvia Plath and Truman Capote. Needless to say, when I became one of the few female degree-seeking students in the realm of film studies, I liked carrying the spirit of Newman's courage in the importance of young talent with me through the hardest of times.
However, as a grown woman who sometimes becomes weary by the increasing divorce rate and dissatisfaction of numerous friends and fellow daters, both male and female alike, one of the most inspirational things about Newman didn't even happen in the public spotlight. For although they shared the screen together countless times, it existed in his own private life as he carried a lifelong torch for his wife and favorite leading lady, Joanne Woodward. Whether, as The New York Times wrote, he gamely remarked to Playboy Magazine that he never was tempted to stray for "hamburger" when he had "steak at home" or casting her in his directorial debut with 1968's Rachel, Rachel-- the collaboration of Newman and Woodward always ranked first before his other oft-cited label of "Newman and Redford."
First sizzling together in The Long, Hot Summer, the two married in 1958 and this year marked the fiftieth anniversary of their phenomenal union as you can see in these playful videos, the first of which came from a documentary about Summer and the second was made as a YouTube video collage in tribute to the couple, using romantic clips of their work over the years.
The Story of the Bed

Newman and Woodward

And although he would rake in the awards, accolades, and press for the life he lived off-screen with charity, racing, or political activism, one of his quintessential quotes from CNN came upon learning he earned a place on Richard Nixon's Enemies List which he called "the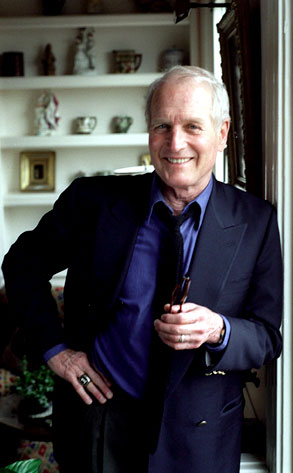 single highest honor I've ever received." According to The New York Times, the well-known practical joker from Cleveland, Ohio who served in the Navy and studied at both Yale University's School of Drama and New York's Actor's Studio alongside Brando, tragically earned a big break filling in for classmate James Dean after the actor's untimely death. Following Newman's television triumphant turn in Ernest Hemingway's "The Battler," he made amends for starring in The Silver Chalice, which The Times continued, he so despised that he took out an ad in Variety to apologize," before his career took off and the rest as they say, is history.
In order to fully grasp his immense versatility, quick-wit, charm and the type of charismatic on-screen persona you just can't duplicate, as a critic, I weeded through far too many amazing clips of his awe-inspiring career to put together a celebration of his talent with this video guide. I hope you enjoy it in the spirit with which it was crafted and that is to honor the irreplaceable Mr. Paul Newman who shone just a little brighter than other stars of his era.
Cat on a Hot Tin Roof (1958)
(as Brick, opposite Elizabeth Taylor)

Robert Rossen's The Hustler (1961) & Martin Scorsese's The Color of Money (1986)
(as "Fast Eddie" Felson)

Hud (1963): Leaning on the Sides of the Law
Cool Hand Luke (1967): "Plastic Jesus"

Butch Cassidy and the Sundance Kid (1969): "Raindrops Keep Falling on My Head"
(as Butch Cassidy, opposite Katharine Ross)

Newman and Redford: Butch Cassidy and the Sundance Kid: "I Can't Swim."
("Next time I say let's go someplace like Bolivia, let's go someplace like Bolivia.")
The Sting (1973): Card Tricks
The Verdict (1982): "I believe there's justice in our hearts."
(as Frank Galvin)
Nobody's Fool (1994): Theatrical Trailer

Road to Perdition (2002): Piano Duet
(as John Rooney, opposite Tom Hanks and Daniel Craig)

Note:yes, that actually is them playing the piano.

While it's impossible to show you a clip from the eighty-one film and television credited performances Newman offered his adoring public over a legendary career, I urge you to watch your favorite films again in tribute and click here to learn about the rest that may have passed you by.