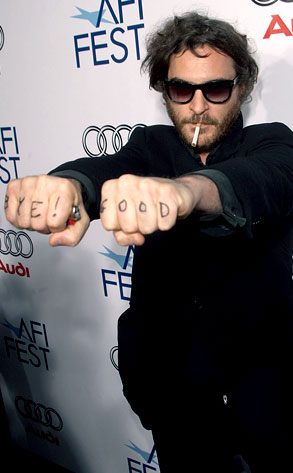 Now this is one of those times where you're not sure if it's all a big joke-- if Joaquin Phoenix is going into character a la Andy Kaufman as some have noted or deciding it'd be a blast to just be uncooperative as possible (and admittedly David Letterman does start things off on a combative note by trashing his appearance), or if this is absolutely on the level.
But whatever the case may be-- it's disturbing to see him appear mostly incoherent while trying to promote his upcoming film
Two Lovers
on the
Late Show with David Letterman
.
As you may have heard, Phoenix has decided to quit acting (see his "farewell message" above) and pursue a career in music. While most assumed he would be going for the same wondrous usage of his vocal instrument on display with his Oscar nominated turn in
Walk the Line
(note the picture and clip below), instead Phoenix has decided to make music in the vein of Eminem-- more precisely by pursuing hip hop and rap which is to be
documented
in film form by his brother-in-law Casey Affleck.
And while-- as a fan since
To Die For
(which also featured Affleck) and someone who always considered him to be one of our greatest actors of this generation-- I wish him nothing but the best, especially considering the horrific tragedy his family dealt with following the loss of his brother River Phoenix, but it's still a bit bizarre to see him like this.
Now, I'm no hip-hop expert but it was always my assumption you had to be a bit quicker than this-- think Martin Scorsese in
The Muse
for an example (now that guy could probably rap):
Referenced & Related Items: